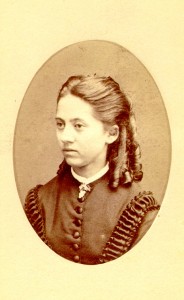 The laboratory was well supplied with printed botanic wall charts, but there was always a need for things that weren't available. During Beijerinck's professorship, his sister Henriette provided most of his display material, generally as large (A1 or A2 in modern terms) watercolours. Henriette Beijerinck was a qualified art teacher who presumably had private pupils, and in addition to material to illustrate lectures, also provided illustrations for several books.

Professor Beijerinck's earliest publications (while he was working at the Wageningen Agricultural Collece) were about the improvement of grains for agriculture, and our collection contains a number of drawings of seedheads. Since they are not signed, they could be by Henrietta, or even by Martinus. The image above left shows (clockwise from bottom left) wheat, European spelt and duram wheat. Beijerinck's doctoral thesis (and a lifelong subject of research) was about plant galls and the collection includes quite a few pictures of galls. The illustration  above right shows moss galls caused by Rhodites rosa gall wasp on young rose leaves.
Henriette also painted assorted microorganisms (see, for examples, the blog post about possible life in comets), but her most beautiful works are the botanic charts. These three images are among the best.