Posts tagged
photographs
Since most of my available time is currently vanishing into preparing the Delft School Archive and Museum for its move to Delft's Science Centre, I thought that a simple blog showing some of the photos I've taken with my facsimile Van Leeuwenhoek microscopes might be nice this month.
By the way, I've been asked why I keep the photographs on this blog fairly small. The reason is simple – I've had some problems with plagiarism and this is an attempt to limit what people can do or claim  with my work without the high resolution versions.
I have 5 Van Leeuwenhoek facsimiles with magnifications ranging from 68x-303x, and have been trying to repeat some of his experiments as closely as possible (it's a good way to spend a wet weekend!). The first 2 pictures show the structure of the microscopes and my photographic setup. Ideally, one needs a camera that can cope with single point metering, and a macro lens also helps with short focusing distances. The microscope is clamped in front of the camera lens, side-on. The piece of cardboard (with a 1 cm hole in it) is there to protect the camera's light meter because that lamp was much bigger than the microscope. I've recently been finding it easier, especially with the stronger lenses, to use a small LED torch.
Fossil microorganisms can be very useful for comparing methods as they don't dry out, swim away or otherwise change. Here you can see a vorticella-type protozoan (L) and diatom preparations under bright (C) and semi-dark field (R) lighting
Van Leeuwenhoek's first observation of microorganisms came from his examination of a water sample from a shallow lake called the Berkelsemeer. This lake no longer exists, but a sample from a similar lake near Delft (the Delftsehout) provided this picture (one of the first I took) of blue-green algae and a rotifer on the right. The black circle is an air bubble.
Van Leeuwenhoek did a lot of work on the formation of crystals of different sorts, and the next 2 photographs show the same table salt crystal under bright (L) and semi-dark (R) field lighting. My results agreed with Van Leeuwenhoek's observation that you get smaller crystals if you let them form slowly by letting the saturated solution evaporate at room temperature rather than by heating it.
The next picture shows red blood cells that I'd dried onto a coverslip. I only noticed after I'd taken the photograph that the little torch had slipped a bit, but I rather like the odd lighting effect.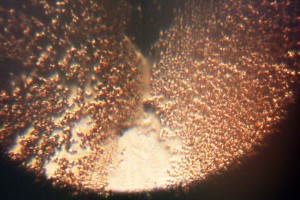 Thus far, my attempts to make thin enough slices of plant materials to examine properly have not been very successful. These photos show my best efforts for carrot root (L) and leek leaf (R). I'm reluctant to cheat by using a microtome, so will have to keep practising!
As Van Leeuwenhoek also complained, the shallow depth of field (or focus) of the stronger microscopes can be a real problem. I haven't been very successful with taking photos of living microorganisms using the 303x lens. They tend to swim out of focus before I have time to trigger the shutter, so the least frustrating thing is to make short films and then use single frames from the film. This image shows bacteria and a hunting ciliate protozoan from a pepper water sample.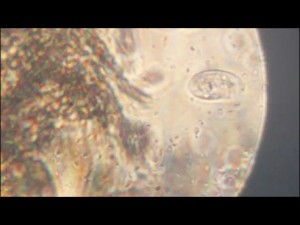 Finally, a lobster larva from a seawater sample. It was either long dead, or a shed skin as the whole thing was covered by a thin layer of algae. I had to take 2 photographs and then join them afterwards– I obviously need to get a weaker microscope!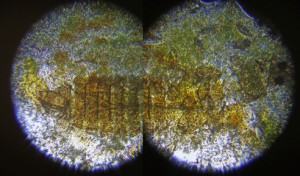 During the first half of the 20th century, it seems to have been customary to make certificates, posters or books to commemorate special events. The Archive includes a number of photo albums showing laboratories in the University or even abroad, but three examples stand out, not least because of the considerable amount of work that went into them.
The first is a book made for Kluyver by three of his pupils (van Niel, Leeflang and Struyk) a few years after he became Delft's Professor of Microbiology. The book compares Beijerinck's 19th century approach to the wonders to be found in 1 gram of soil with Kluyver's 20th century approach to the wonders associated with 1 gram of carbinol. That's not students kneeling outside the Professor's door in the 4th page, but representatives of industry!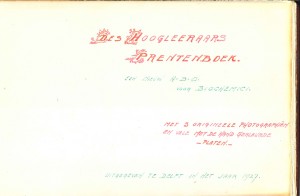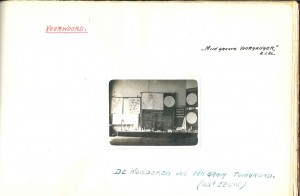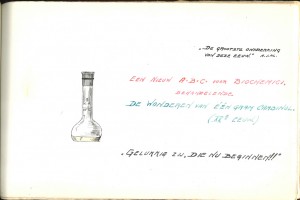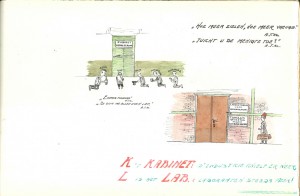 The second is a handmade poster (about the size of a large double bed) that was made to mark the 25th anniversary of Kluyver's inaugural lecture. It shows notable features from those 25 years, including sketches of the laboratory, Kluyver's most famous work (The Unity in Diversity) and his inaugural address ("Rede") in which he emphasized the importance of applied research. Every rectangle represents a story.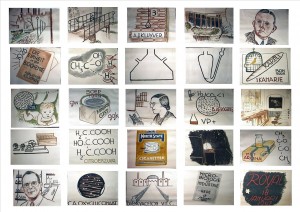 The Kluyver Flask (still used for growing submerged, well-mixed cultures) and a shaker for closed jars containing oxygen-free cultures are shown. During the Dutch "Starvation Winter" at the end of World War II, Delft's Yeast and Spirits Factory gave their staff soup made from yeast extract at lunch time, and as one of their advisors, Kluyver regularly benefited from this at weekly meetings. Lastly, at a time when it was usual to stand if a Professor came into the room, the staff's affection for Kluyver shines through in several squares teasing him about his smoking!
A book to mark van Iterson's 25th anniversary as a Professor also falls into this category despite being essentially a photo album because the makers included all of his PhD students, postdocs and co-workers from other countries, showing who they were, what they did and what happened to them afterwards. van Iterson's conviction that the primary job of a Professor is to teach is obvious from the fact that there's 160 pages, each with one or more person on it. The example here shows J.E. van Amstel, the first woman to be granted a Doctorate in Delft.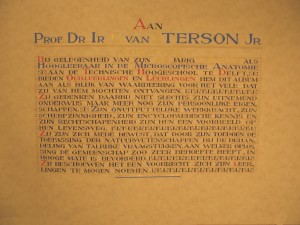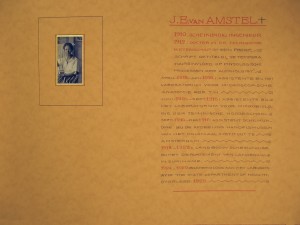 Our glass negative collection (about 27,000 of them) dates from the mid-1880s to the 1960s (when they were being used with the electron microscope. It covers a remarkably wide range of topics including Beijerinck's gall wasps, light microscopy, travel (especially van Iterson's working trip to Indonesia) to images from publications – essentially what any group of Professors would have in their Powerpoint collections today. The quality of the images is amazing – it has been possible to enlarge pictures to A0 without grain or blurring.
Later posts will showcase the individual collections of the three Professors, this is just a taster to show examples of what we have.