Posted in
May 2017
On 7th May (2017) the Dutch Society for Microscopy (Nederlands Genootschap voor Microscopie) ran an open microscopy workshop at the Delft Science Centre. They taught members of the public (and me!) how to make thin sections of plant material, stain the sections and then examine them under modern microscopes.
The plant material in question was a twig from Wollemia nobilis (captive bred). W. nobilis is a very rare pine tree that was only known from the fossil record until 1994 when a few trees were found in Australia. The oldest tree has been estimated to be over 1000 years old according to the Kew Gardens website. As the only representatives of a genus that dates back to the time of the dinosaurs, the wild trees are IUCN-red listed and stringently protected, but seedlings can now sometimes be bought.
Since there were a few sections left at the end of the workshop, how could I resist putting them under my 65x facsimile Van Leeuwenhoek microscope?  He would, of course, have examined them if they had been available to him 300 years ago.
A couple of images using a much weaker lens on my 19th century Zeiss "jug handled" microscope have also been included for comparison (the first photo on each line). The red and blue images came from a stained preparation, the others from a section that had been allowed to dry on a coverslip, without staining.
I have just heard that it will be possible to see part of the beautiful Camacho & Pallas microscope collection at the Museum of Evolution in Burgos (Castille & Leon) in Spain.
http://www.museoevolucionhumana.com/
The exhibition will run from April to November, 2017.
This is a privately-owned collection which includes the Van Leeuwenhoek microscope that was found in mud dredged from Delft's Oude Delft canal in in 2015 (see my blogpost from 23 June 2015).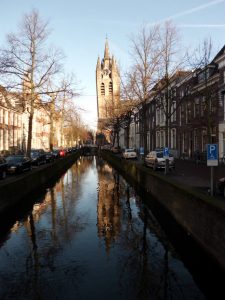 If you're going to be holidaying in Spain this summer, it'll be well worth a visit.