Posted in
May 2015
During the first half of the 20th century, it seems to have been customary to make certificates, posters or books to commemorate special events. The Archive includes a number of photo albums showing laboratories in the University or even abroad, but three examples stand out, not least because of the considerable amount of work that went into them.
The first is a book made for Kluyver by three of his pupils (van Niel, Leeflang and Struyk) a few years after he became Delft's Professor of Microbiology. The book compares Beijerinck's 19th century approach to the wonders to be found in 1 gram of soil with Kluyver's 20th century approach to the wonders associated with 1 gram of carbinol. That's not students kneeling outside the Professor's door in the 4th page, but representatives of industry!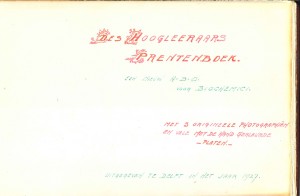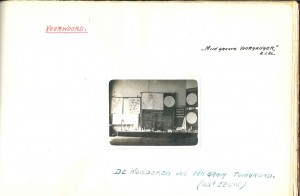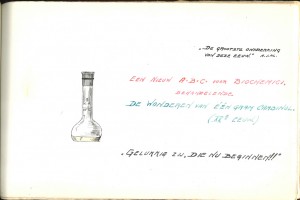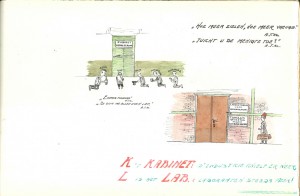 The second is a handmade poster (about the size of a large double bed) that was made to mark the 25th anniversary of Kluyver's inaugural lecture. It shows notable features from those 25 years, including sketches of the laboratory, Kluyver's most famous work (The Unity in Diversity) and his inaugural address ("Rede") in which he emphasized the importance of applied research. Every rectangle represents a story.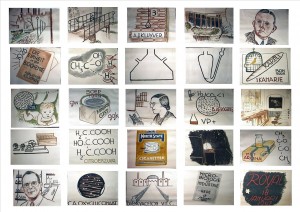 The Kluyver Flask (still used for growing submerged, well-mixed cultures) and a shaker for closed jars containing oxygen-free cultures are shown. During the Dutch "Starvation Winter" at the end of World War II, Delft's Yeast and Spirits Factory gave their staff soup made from yeast extract at lunch time, and as one of their advisors, Kluyver regularly benefited from this at weekly meetings. Lastly, at a time when it was usual to stand if a Professor came into the room, the staff's affection for Kluyver shines through in several squares teasing him about his smoking!
A book to mark van Iterson's 25th anniversary as a Professor also falls into this category despite being essentially a photo album because the makers included all of his PhD students, postdocs and co-workers from other countries, showing who they were, what they did and what happened to them afterwards. van Iterson's conviction that the primary job of a Professor is to teach is obvious from the fact that there's 160 pages, each with one or more person on it. The example here shows J.E. van Amstel, the first woman to be granted a Doctorate in Delft.