Posted in
July 2017
In the days before the easy projection of images, wall charts were the usual manner of illustrating lectures and practical classes. This photo shows the autumn 1941 practical on microscopical research of living plants and plant products, with wall charts in use on the back wall. Prof van Iterson can be seen standing in the far left corner of the room.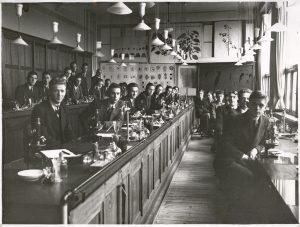 The Archive has a large collection of these wall charts, and I've previously shown some of the printed ones as well as some by Henriette Beijerinck. The original wall charts for Van Iterson's Department were produced by at least 15 people, not all of whom signed their work with their full names. They range from beautiful watercolours of useful plants to diagrams and tables – everything a Professor of Applied Botany could need for his lectures.
Like Beijerinck and Kluyver, in those days before the discovery of DNA, Van Iterson was interested in heredity and variation, and we have a series of watercolours illustrating Mendelian genetics, gender dimorphism and mimicry.
Researching and cataloguing the wall chart collection was a great labour of love by Truus ten Hoopen-van Hulsentop. If anyone can tell us anything more about the various artists, we'd be delighted to hear from you.