In April, I published a survey of the currently accepted authentic Van Leeuwenhoek microscopes in FEMS Microbiology Letters, and suggested that more might be found. Within a month, there came news of two previously unknown microscopes. Their history over the intervening centuries could not have been more different.
Press releases in the Dutch newspapers and on TV (21st May, 2015) announced that a silver Van Leeuwenhoek microscope had been discovered in a box of old Dutch doll's house equipment. The new owner took it to the Museum Boerhaave in Leiden for authentication. They compared it with the 4 Van Leeuwenhoek microscopes already in their collection and the microscope belonging to the University of Utrecht before presenting their results at the beginning of June. They concluded that this microscope indeed dates from Van Leeuwenhoek's lifetime and must be considered to be authentic. It can be seen at Museum Boerhaave until mid-July (2015). Thereafter it will go home to its owner for display at Planetarium Zuylenburgh in Oud-Zuilen.
Within days of the announcements about the silver microscope, a letter by Brian Ford appeared in the journal "Nature" (28 May, 2015), announcing the finding of a brass Van Leeuwenhoek microscope in sediment that had been dredged from Delft canals during maintenance work. This microscope's new owner had sent it for authentication to Dr Ford in the UK, and he had concluded that it was indeed real.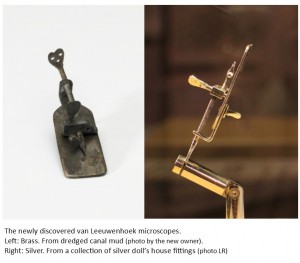 Before these two discoveries, the most recent find was in 1983, when a visitor to the "Beads of Glass" exhibition at Museum Boerhaave donated a small silver microscope that she had owned without realizing what it was.
It is likely that many of Van Leeuwenhoek's gold and silver microscopes have been melted down, but my crystal ball tells me that there must be more out there to find, especially since he also made a number from brass. For example, two microscopes were individually photographed at the start of the 20th century in Munich and Paris, but their locations are now unknown. From the photograph in the 1929 Nachet Collection Catalogue, it can be seen that the Paris microscope had been incorrectly assembled and could not have been used until it had been put together properly, a mistake that someone making a copy would be unlikely to make. The Munich microscope had been accepted as authentic by the University of Utrecht in the late 19th century, before it was sent to Munich.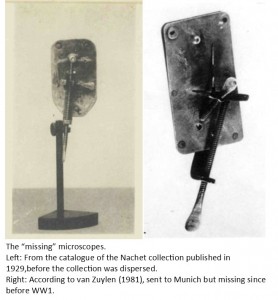 Like the newly discovered microscopes, there are structural similarities, but neither appears to be physically identical to the accepted microscopes. This rules out most of the known late 19th and 20th century copies (which tend to be replicas of either the Utrecht University microscope or one from the Museum Boerhaave collection). Hopefully they (and others) will reappear, and can undergo modern authentication analysis.