Posts in category
The Museum/Archive
Since most of my available time is currently vanishing into preparing the Delft School Archive and Museum for its move to Delft's Science Centre, I thought that a simple blog showing some of the photos I've taken with my facsimile Van Leeuwenhoek microscopes might be nice this month.
By the way, I've been asked why I keep the photographs on this blog fairly small. The reason is simple – I've had some problems with plagiarism and this is an attempt to limit what people can do or claim  with my work without the high resolution versions.
I have 5 Van Leeuwenhoek facsimiles with magnifications ranging from 68x-303x, and have been trying to repeat some of his experiments as closely as possible (it's a good way to spend a wet weekend!). The first 2 pictures show the structure of the microscopes and my photographic setup. Ideally, one needs a camera that can cope with single point metering, and a macro lens also helps with short focusing distances. The microscope is clamped in front of the camera lens, side-on. The piece of cardboard (with a 1 cm hole in it) is there to protect the camera's light meter because that lamp was much bigger than the microscope. I've recently been finding it easier, especially with the stronger lenses, to use a small LED torch.
Fossil microorganisms can be very useful for comparing methods as they don't dry out, swim away or otherwise change. Here you can see a vorticella-type protozoan (L) and diatom preparations under bright (C) and semi-dark field (R) lighting
Van Leeuwenhoek's first observation of microorganisms came from his examination of a water sample from a shallow lake called the Berkelsemeer. This lake no longer exists, but a sample from a similar lake near Delft (the Delftsehout) provided this picture (one of the first I took) of blue-green algae and a rotifer on the right. The black circle is an air bubble.
Van Leeuwenhoek did a lot of work on the formation of crystals of different sorts, and the next 2 photographs show the same table salt crystal under bright (L) and semi-dark (R) field lighting. My results agreed with Van Leeuwenhoek's observation that you get smaller crystals if you let them form slowly by letting the saturated solution evaporate at room temperature rather than by heating it.
The next picture shows red blood cells that I'd dried onto a coverslip. I only noticed after I'd taken the photograph that the little torch had slipped a bit, but I rather like the odd lighting effect.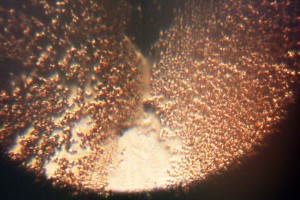 Thus far, my attempts to make thin enough slices of plant materials to examine properly have not been very successful. These photos show my best efforts for carrot root (L) and leek leaf (R). I'm reluctant to cheat by using a microtome, so will have to keep practising!
As Van Leeuwenhoek also complained, the shallow depth of field (or focus) of the stronger microscopes can be a real problem. I haven't been very successful with taking photos of living microorganisms using the 303x lens. They tend to swim out of focus before I have time to trigger the shutter, so the least frustrating thing is to make short films and then use single frames from the film. This image shows bacteria and a hunting ciliate protozoan from a pepper water sample.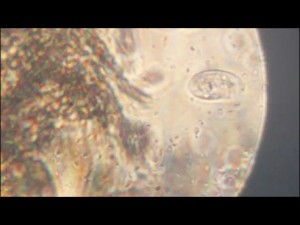 Finally, a lobster larva from a seawater sample. It was either long dead, or a shed skin as the whole thing was covered by a thin layer of algae. I had to take 2 photographs and then join them afterwards– I obviously need to get a weaker microscope!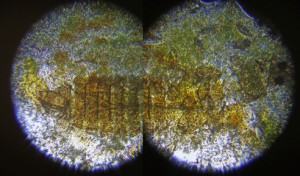 At the end of March 1958, two years after Kluyver's death, the Laboratory for Microbiology moved out of the building where he and Beijerinck had worked. Kluyver had been heavily involved in the design and planning of the new building, but it was his successor, Torsten Wikén, who took possession.
The new laboratory was attached to the new Department of Biochemistry, the Department of Applied Botany previously erected for Van Iterson and the associated  Botanic Garden dedicated to applied botany.
Professor Wikén's new office was given new furniture, and the contents of the office used by Beijerinck and Kluyver were stored in a purpose-built room in the microbiology attic. Since the 1980s, this collection has gradually been organised and merged with similar material left by Van Iterson when he retired and a few related donations, giving us what is known today as the Delft School of Microbiology Archives and the Museum known as the "Kamer van Beijerinck" (Beijerinck's office). None of it would have been possible without the hard work of a legion of volunteers who have sorted and researched different areas of the collection.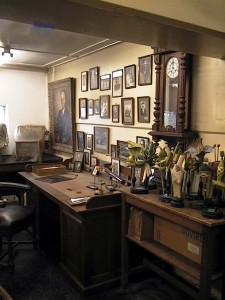 The collection has attracted visitors ranging from individual researchers from as far afield as the USA and Japan to biotechnology students in their first year with their parents and visitors from schools. It's provided material for TV programmes, exhibitions, publications and postage stamps as well as a couple of PhD theses… Visitors to the Department of Biotechnology have frequently been brought to see the collection during their visits, as have participants in some of the Delft Advanced Courses.
All good things eventually come to an end, and it is finally time for the Archive-Museum and the Department of Biotechnology to part company. Biotechnology is moving to a brand new Faculty building on the outskirts of Delft, uniting with other Faculty Departments. The Archive-Museum  is moving around the corner to the old Department of Mining building, now the Delft Science Centre where the collection will occupy second floor rooms over the main entrance, next door to the minerals collection of the Department of Mining.
Regular readers of this blog will know that digitisation and cataloguing of the collection has been an on-going process and we've frequently been surprised as volunteers have found manuscripts and odd equipment as they've catalogued the contents of boxes. As we prepare for the move this is still true, and readers will no doubt be hearing about some of our more unusual discoveries (e.g. the papers relating to the unmasking of a cold war spy in the Department) in later posts.
Saying farewell to the Julianalaan will be sad in some ways (most of my scientific career was spent there), but our new rooms will be better lit and considerably less dusty. The Museum will be more accessible as it will no longer be necessary to walk through an active biotechnological laboratory to reach it. Last and not least, the move is giving us a chance to sort the document collection more logically, something that researchers who've visited us in search of specific documents will appreciate!